FAQs
Find the answers to your questions about Investment Property Calculators.
Here is a list of the frequently asked questions about Investment Property Calculator. If you have any questions not listed here, please use the Contact Investment Property Calculator form to get contact with us and we will get back to you in 24 hours.
What payment options you accept?
We accept multiple payment options including: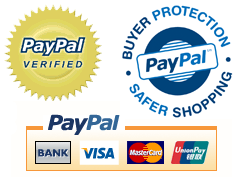 1. Credit cards
2. PayPal
3. Bank Deposit
Payments are processed via the Secure PayPal Payment Gateway. PayPal is an eBay owned company that allows you to make safer and easier payments online with your credit card, bank account, or PayPal account without sharing financial information. Investment Property Calculator is a PayPal Verified business and you are covered by PayPal's buyer protection which will protect you for all purchases up to $500. In addition, using PayPal to make payment is free of charge so it will not cost you anything.
You do not need a PayPal account to make a payment if you are using a credit card. If you want to use bank deposit, you can either set up a PayPal account which is very quick to set up or use the Internet banking facility provided by your own bank.
Investment Property Calculator does not receive or record your banking or credit card details as your payment is processed by PayPal so you can shop knowing that your private details are safe and protected.
May I ask for a trial on the paid Investment Property Calculators?
We do have a free version of the Investment Property Calculator. It is the trial. The paid versions of Investment Property Calculator look like the free version of the investment property calculator while they are just much more powerful, flexible, and comprehensive. To understand the differences across different versions, please visit the "Investment Property Calculators Comparison" page.
Will your paid Investment Property Calculators work on a Mac?
The Standard Investment Property Calculator, Professional Investment Property Calculator, and Ultimate Investment Property Calculator have been tested by our customers that they work on a Mac with Excel 2011 for Mac. If they don't work with Excel 2011 for Mac, full refund will be given if you send us a screen shot showing the error message.
Will you provide the password to unprotect the calculators?
No. Password to unprotect the calculators (both free and paid) will NOT be provided. All the calculators are copyrighted so under no circumstances you should request the password or try to use any software to obtain the password to unprotect the calculators.
What an unlock code is for? Is it the password to unprotect the worksheet(s) in the calculators?
An unlock code will allow you to use extra functions in a calculator or to turn a trial to the full version. It is NOT the password to unprotect the worksheet(s) in the calculators.
What's your refund policy?
If you are having issues with a product and need assistance with downloading and/or using the product, please contact us or visit Support Forums before you ask for a refund as we are confident that we will be able to resolve the issues. If we cannot help you, full refund will be offered within 30 days from the date of purchase. Investment Property Calculator will do our best to satisfy all refund requests from customers in a courteous, timely, and fair manner. Again, it will be very much appreciated if you can let us to rectify any issues you are having before asking for a refund.
Do I need Internet to use the calculators?
No! You don't need Internet to use the calculators. Unlike the online calculators, all the calculators offered by Investment Property Calculator do not need you being online in order for them to do the analysis and forecast.