The Australia's big four banks finally decided to pass on the Reserve Bank's 0.25 point cut.
ANZ move first, announcing yesterday on 08/12/2012 it would cut its standard variable home loan rate from 7.55 per cent to 7.30. Fellow Melbourne-based giant NAB followed quickly, dropping its standard rate to 7.22 per cent.
Commonwealth fell into line late in the afternoon, and Westpac, which had the highest home rate before the controversy, yielded about 7.30pm 08/12/2012.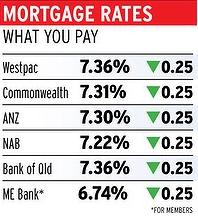 And ANZ, although it acted first to cut this time, has flagged a bid to escape the political pressure to pass on Reserve Bank moves in future. It says it will now review its rates on the second Friday of every month, regardless of whether the Reserve has moved.
The shift means that for ANZ's 700,000 customers, their interest rates could rise or fall even when the central bank has left official rates unchanged.
ANZ's Australian operations chief, Philip Chronican, implied that ANZ might not pass on any future cash rate moves as there were far more significant influences on bank costs than the Reserve cash rate.