A comparision of home loan search trend and investment property search trend on Google Insights shows that since 2004 the number of home loan related searches increased from year to year and it peaked in late 2008 and early 2009 when the government boosted the first home buyer grants. Since the grant was reduced home loan related searches decreased quickly.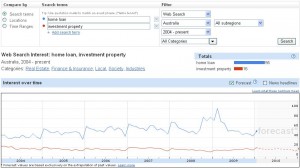 (Click the above to see the full size chart.)
Although it is still too early to draw solid conslusion for 2010, I believe property investors will be the main driver for any home loan growth in 2010. I think lots of them sold their investment properties at a good price when the first home buyer grant was boosted while it is now the time for them to buy new investment properties – some first home buyers might be struggling with the recent interest rate increases and want to sell their properties at a discounted price. That's will be a bargain for property investors although more bargains will come with more interest rate increases in 2010.
Let's wait and see.