House Prices in 2012
For the year of 2012, Melbourne has continued to be a drag on the national property market, with dwelling values falling 2.9 per cent over the year. It was far and away the worst performance for any capital city. Brisbane and Adelaide were next after experiencing declines of 0.8 per cent.
Sydney dwelling values were up 1.5 per cent, primarily thanks to a stronger performance in the unit market which increased by 2.3 per cent compared to houses at 1.3 per cent. Perth values rose 0.8 per cent, but Darwin proved to be the best performing capital city, registering an annual growth rate of 8.9 per cent.
House prices: 2013 property market forecast – I think a lot of people will be interested in this topic.
Business Spectator published a good article from Steve Keen.
According to the article (Where to for house prices in 2013?), Australian Property Monitors senior economist Andrew Wilson forecasted that Australian property prices will grow 3-5 per cent nationally in 2013, and BIS Shrapnel managing director Robert Mellor calling for between 2 and 8 per cent growth for Sydney.
Steve argued that it is unlikely that the house prices will rise faster than consumer prices in 2013 although the "fundamentals" of (a) a rising population and (b) tight supply are still right.
He pointed out that house prices peaked in June 2010, and have fallen 4.1 per cent in nominal terms and 9.8 per cent in real terms between then and September 2012 (the most recent date for the ABS existing dwelling price index).
Steven Keen further suggested that the recent tiny uptick in nominal house prices in Australia was driven by an acceleration in mortgage debt too – even as the rate of change of mortgage debt was falling – but it wasn't enough to reverse the trend for inflation-adjusted prices to fall. It already appears that this acceleration is petering out, and the rate of growth of nominal house prices is falling further below the rate of inflation as a result.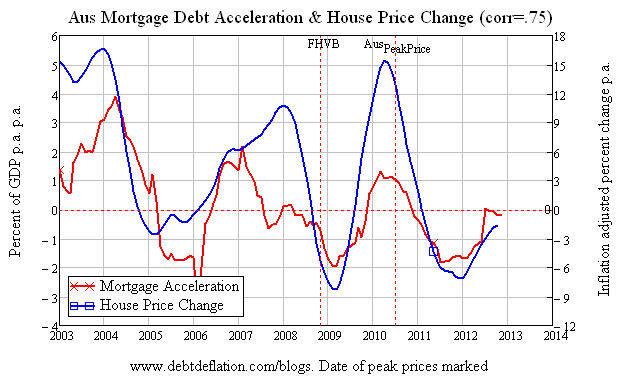 Mr. Keen's view on 2013 house prices is in line with RP Data's forecast. RP Data is forecasting another weak year (2013) for the national market, with values expected to rise in line with inflation at best.
The outlook has been echoed by Barry Plant of national estate agency Barry Plant, who said it could take at least two years for the market to noticeably improve. ''I don't think the market will move a lot in 2013, but the one thing I don't think it will do is go backwards,'' Mr Plant said. ''I think 2015 will be the time you'll start to see things reboot.''
In summary, all the opinions from different sources suggest that Australia 2013 house prices will grow at a very low rate which will fall below the CPI.