"Australian house prices could decline by more than 5 per cent in 2012 if China's economy experiences a soft landing with GDP growth at about 8 per cent,'' according to Standard & Poor's latest report titled China Soft Landing Would Moderately Impact Australia's Housing Market.
China's insatiable demand for resources over the past decade, particularly iron ore and coal, has underpinned Australia's mining boom.
Vera Chaplin, Standard and Poor's managing director of structured finance, stated "Australia relies heavily on its Asian trading partners for their insatiable demand for commodities, in particular China … Consequently, a slowdown in China will likely have flow-on effects to employment and house prices in Australia."
According to the report, if China's GDP growth slowed to 5 per cent per annum, Australia would be sent into a recession and house prices could fall by as much as 20 per cent.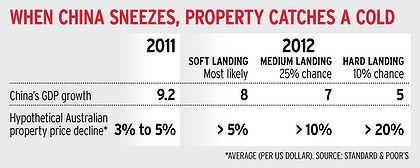 However, Ms Chaplin told The Age that such a worst-case scenario was not likely.