Do you want to do a 25,720 km, 56 days 4 hours travel for 1.03% p.a. discount on your home loan?
I saw the Suncorp Bank "1.03% p.a. discount for the life of the loan" marketing campaign a few days ago. Today I thought I might go to their branch to have a chat.
I went to Suncorp Bank website and found the "Branch Locator" easily. When I clicked on it, a new window is poped up. In the new window, I entered my postcode 2000 and clicked on the "Search" button. Several branched close to me were displayed. I decided to choose the one on George street.
However, I am not so sure how to get there so I clicked on "Show on map". I then clicked on the "Get Directions" link (see picture 1). A new window opened again.
Here is the problem. It suggested that I should start from Itravel 2000, 2350 Matheson Blvd E, Mississauga, Ontario L4W 5J7, Canada and I have to spend the next 56 days 4 hours to travel 25,720 km in order to get to their 330B George Street branch (see picture 2).
Am I going to? NO!
Although this is just a joke, I hope Suncorp will fix this bug on their website quickly.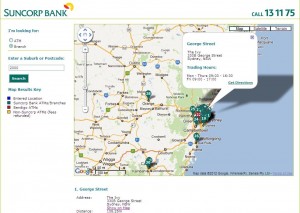 Picture 1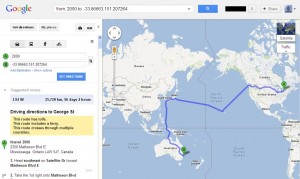 Picture 2