FREE Multiple Loan Calculator
The free multiple loan calculator helps you decide the best way to pay off up to 7 loans (including credit cards). It can estimate your savings on interests across different scenarios: (1) pay off loans faster without refinancing; (2) refinance your loans; (3) make extra one-off payments and/or regular payments on selected loans.
The free multiple loan calculator also provides loan amortisation schedules (monthly, fortnightly, or weekly - depending on the loan repayment frequency) on the all the loads you have.
Please note: This calculator works with loans where you pay off all the debt within a set period of time by making regular payments. The calculator is designed to work only for loans of 30 years or less. The calculator won't work for 'interest-only' loans.
Here is a screen shot that will give you a better idea that what you need to do and how this free multiple loan calculator might help you.
This calculator is built in Microsoft Excel worksheet. You need to have Microsoft Excel 2000-2010 and Microsoft Windows to use it. You may be able to use the calculator with other applications that can open and read XLS spreadsheets, but this has not been tested.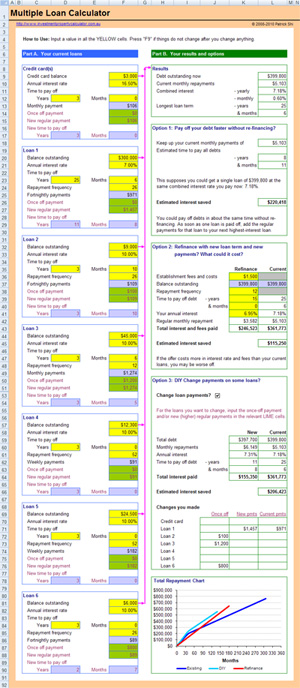 View full size image of FREE Multiple Loan Calculator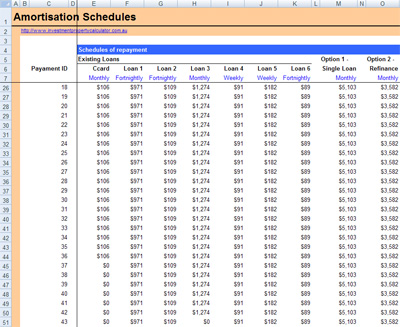 View full size image of FREE Multiple Loan Calculator - Amortization Schedules
Cost
$0.00 (FREE) - Personal Use
$44.99 - Commercial Use

File Type
.xlsx - Excel Spreadsheet

File Size
~2,963KB

Required
Microsoft Excel® 2002(XP), 2003, 2007