FREE Redundancy Calculator
The free redundancy entitlements calculator aim to help you work out your redundancy payments.
How much redundancy pay lump sum you can get? Redundancy might not be a good thing but at least you should be able to get the redundancy entitlements that you are entitled. You can use this free redundancy calculator to estimate how much redundancy payments you should be able to get.
This free redundancy payments calculator also estimates the tax free and taxable amounts of your redundancy payout. It will work out the tax on your redundancy entitlements and show how much net after tax redundancy pay you can get.
This free redundancy payments calculator was developed based on that fact that employees should get the following entitlements in their final pay:
(1) outstanding wages, including penalty rates and allowances;
(2) accrued annual leave and annual leave loading entitlements;
(3) accrued or pro-rata long-service leave (if applicable);
(4) redundancy pay entitlements (if applicable).
Here is a screen shot that will give you a better idea that what you need to do and what the free redundancy entitlements calculator can do for you.
This calculator is built in Microsoft Excel worksheet. You need to have Microsoft Excel 2007-2013 and Microsoft Windows to use it. You may be able to use the calculator with other applications that can open and read XLS spreadsheets, but this has not been tested.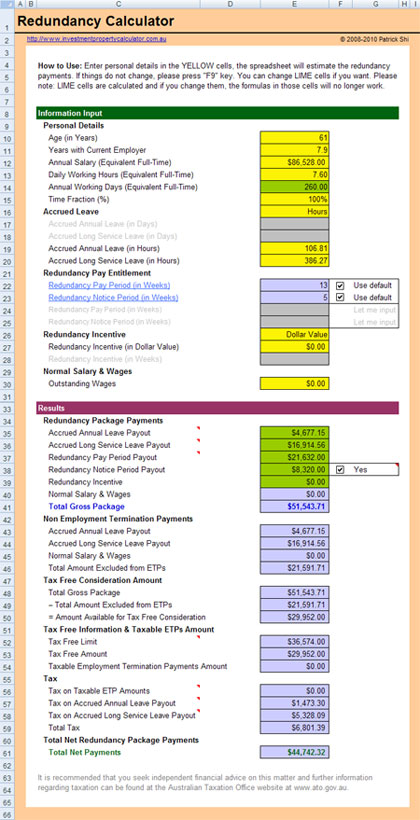 View full size image of FREE Redundancy Calculator
Download FREE Redundancy Calculator Now!
If your company has your own redundancy polices and would like to customize the free Redundancy Calculator, please contact me. You can have a look at this sample of customized Redundancy Calculator.
Cost
$0.00 (FREE) - Personal Use
$34.99 - Commercial Use

File Type
.xlsx - Excel Spreadsheet

File Size
~75KB

Required
Microsoft Excel® 2007, 2010, 2013 for Microsoft Windows®
OR
Microsoft Excel 2011 for Mac