Wonder if you should buy a house property in Sydney or Melbourne in 2010? The chart below clearly shows that you should buy in Sydney because the median house price Sydney is till much lower than the prediction while the median house price Melbourne is already in line with the prediction.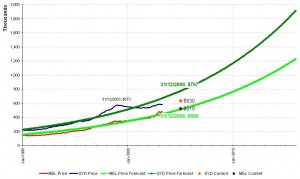 In addition, the 2020 median house price Sydney is predicted to be 1.9m while Melbourne is only 1.3m at most.
============================================================
This post was published in March 2010 and I think it is now the time to revisit the Melbourne and Sydney property market.
I invite you to do a simple poll over Sydney and Melbourne. The question is:
Loading ...